WILSHIRE/MINNIE PARKING LOT TRANSFORMED INTO STATE-OF-THE-ART DENTAL OFFICE
BY PDS SERVE FOUNDATION



The parking lot at the Wilshire/Minnie family apartments in Santa Ana became a dentist's office on a recent Saturday morning where parents and their children were treated to free dental care by PDS Serve Foundation, the charity operated by Pacific Dental Service. Fifty-nine residents of Wilshire/Minnie received dental care from the PDS Serve Bus, a mobile dental clinic, ranging from basic cleaning to filling and crowns, according to Todd Cottle, principal of C&C Development, owner and manager of the Wilshire/Minnie apartments in partnership with Orange Housing Development Corporation.

"The free dental service provided by PDS Serve Foundation is one of many health, social and education programs we sponsor for residents in our affordable communities throughout Southern California," Todd said.  "We partner with charitable organizations such as PDS Serve Foundation to provide a diversity of these life changing programs to our residents and surrounding neighborhoods."

Todd pointed out that this was the first time many of the children received professional dental care, as well as some of the adults, and he is in discussions with PDS Serve Foundation to make the PDS Serve Bus an annual event at C&C properties.

The PDS Serve Bus is a colorfully designed, very impressive recreational vehicle that has been transformed into a fully equipped, state-of-the-art dental office with two patient chairs.  The Bus offers free dental care to challenged urban areas and rural communities in need and to promote the importance of oral health at a variety of regional events.

"Not everyone lives close to a dental office or a local community health clinic; we bring dental care to them," the PDS Serve Foundation states.  "We influence the next generation by teaching them the importance of oral health to their overall well-being."

For more information on PDS Serve Foundation and its activities, go to http://pacificdentalservices.com/giving/foundation#sthash.TWDLz0eO.dpuf


AURORA GONZALEZ AND HER SONS FIND A BETTER LIFE AT
CITRUS GROVE APARTMENTS
The true value of affordable housing can only be seen through the eyes of the families who live in these homes. One such family is Aurora Gonzalez and her two teenage sons, who live in the Citrus Grove Apartments, the companion project to the soon to be built Lemon Grove Apartments, both developed in partnership with Orange Housing Development Corporation. Aurora is a single mom who has found a new life in her two-bedroom apartment home and new hope for her future and that of her sons, one in middle school and the other in high school.

Before moving to Citrus Grove in March 2014, Aurora and her sons lived in a single bedroom in an apartment in the City of Orange for four months where they were banned by the landlord from using the bathroom and kitchen.  "We had to go out to eat and use the bathroom, no matter what time or the weather," she recalls. "It was very expensive and very inconvenient.  We were all very unhappy.  I promised my sons that if it was the last thing I did, I would find us a better place to live."

However, the bedroom wasn't even the worse place they lived.  Before that, they lived with a relative in Whittier and along with constant bickering that cast a cloud over their everyday life, the place had an infestation of roaches and was made dangerously unhealthy by flooding and mold that the landlord refused to treat or remove.  After three years of misery, they moved.

Now, at Citrus Grove, life for Aurora and her sons is very good."I promised my sons I would find a better place for us to live and this is a dream come true," she says.  Their apartment home is immaculate and tastefully furnished, full of plants and flowers.  With their own bedroom, her sons have a quiet place to study and their grades have improved, especially with the tutoring help they receive at the Citrus Grove community room.  "Moving here is the best thing that has happened to us," says Aurora.   "We are very happy."

The Citrus Grove Apartment community is a 57-unit affordable multifamily community that encompasses a variety of amenities that promote socializing, recreation and quality of life, including the community's open space. Amenities also include a learning center and computer lab with after school programming for youngsters, barbecue island and tot lot, laundry facility, and carport parking.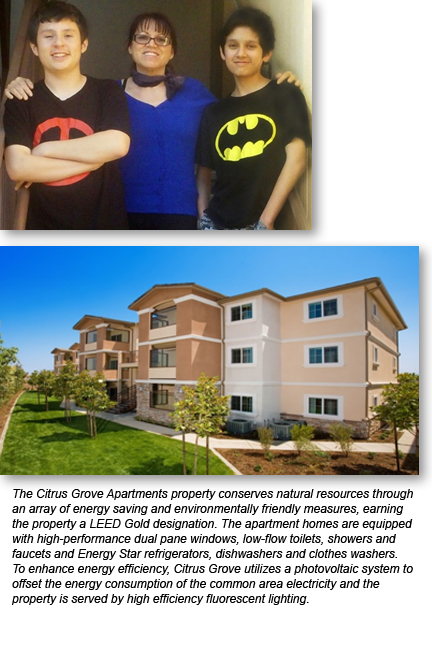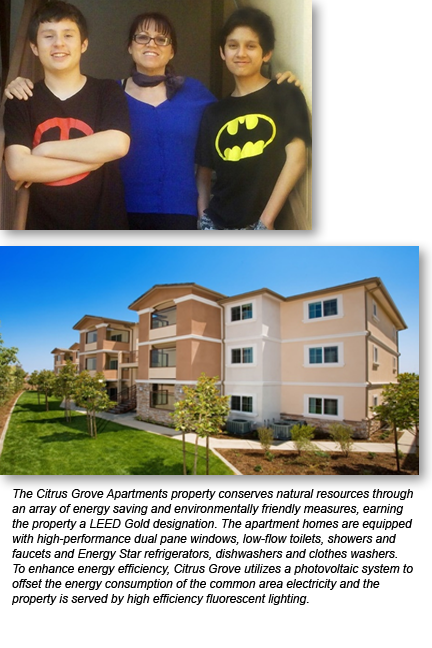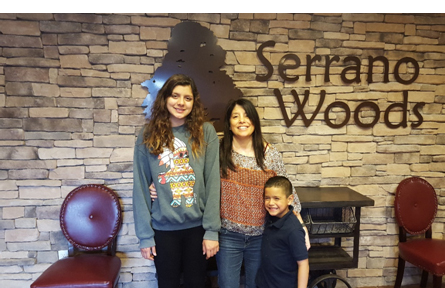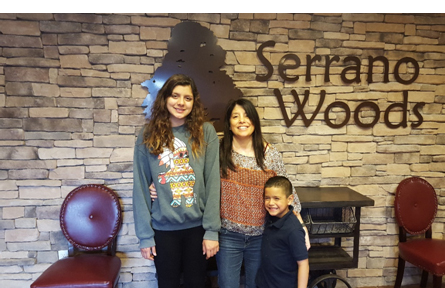 SERRANO WOODS OFFERS HOPE FOR THE FUTURE TO ZAMORA FAMILY
Jenny Zamora found herself and her two young children in a very difficult spot. The victim of an abusive relationship, she escaped to live with her young children at Human Options, a safe haven for battered women in Irvine where she received understanding and counseling. She was able to stay for 45 days but then, because of the demand for space at the facility, she needed to move on.

Still recovering from the after effects of domestic violence, she was not yet ready to be on her own and her next stop with her children was Eli Home in Anaheim, a place of peace and healing for abused youth where she lived for two years. This gave her enough time to settle with her past, save money for the next stage of her life, and find her own peace as well as a new place to live. "I don't wait for people to help me," states Jenny. "I move forward on my own."

In March of 2013, Jenny's campaign to be on her own with her two children got a real boost. She was hired to work at a local company and at almost the same time she found, after an extensive search, Serrano Woods, which had just opened. The property manager, Advanced Property Services (APS is subsidiary of C&C Development), was accepting renters who qualified for the new community's lower income criteria – 30% to 60% of Orange County's average median income. She qualified, filled out the application, but then more bad news . . . she was laid off after only one month. A major new contract the company was expecting did not materialize.

Devastated, Jenny assumed she would no longer qualify for her new apartment at Serrano Woods, but she was wrong. There was one remaining apartment available at the community's lowest rent at 30% AMI, and with the assistance of Advanced Property Services leasing manager, Alheli Juarez, qualified Jenny for that last unit. "She was a God send," Jenny says. In late April 2013, she and her children moved into their two-bedroom apartment and Jenny immediately enrolled in a nearby community college to earn her high school degree and thereby improve her prospects for finding a new job. Reflecting on where she is today, Jenny sees a much brighter future ahead for her and her children. "As long as we have a roof over our heads and we are safe, I am happy," Jenny concludes with a smile.





PROVIDING SOCIAL, HEALTH AND EDUCATION PROGRAMS
THAT IMPROVE LIVES
C&C Development and Orange Housing Development understand and embrace the value that quality social services bring to each of their properties by providing the opportunity for both family and senior citizen residents to enhance their life and lifestyle. To fulfill this goal, we have established partnerships with such organizations as Lighthouse Learning Centers, Kidworks,and THINK Together, as well as local YMCAs, Latino Health Access to provide beneficial education, health and social services. These programs deliver invaluable resources and services to residents and surrounding neighborhoods tailored to fit the needs of each resident population.

After school tutoring, athletics, English classes, nutrition classes, health clinics, family classes, computer labs, photography classes, and art classes are just some of the programs and services that are provided free of charge and are available to all the residents within the community. Especially important is the availability of education and health services to young residents. Studies such as ones conducted by the Center for Housing Policy have found that quality after-school programs which focus on the health and academic achievement of youth can have a positive impact on children's formal educational advancement by increasing school attendance, enhancing work habits, and strengthening task persistence.