A Case Study of Collaboration
The City of Orange, Orange Housing Development and C&C Development Have Worked Together for 25 Years to Create Workforce Housing for the City's Diverse Population
As far as public/private partnerships are concerned, the City of Orange, Orange Housing Development Corporation and C&C Development, may have logged a milestone with their long-standing relationship focused on building affordable housing that dates back some 25 years. 
Joint venture partners Orange Housing and C&C are today the city's largest providers and managers of affordable housing.  During the past two and a half decades, the partnership has built 557 units of workforce housing in the City of Orange.  Their newest workforce housing development is the 82-unit Lemon Grove Apartments community which was recently completed on a 3.53-acre site that was formerly an industrial facility.
Unique Partnership
"C&C Development has partnered with Orange Housing Development to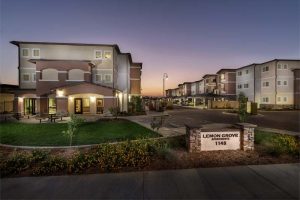 develop apartment projects for working families," says Rick Otto, City Manager, City of Orange.  "The Lemon Grove Apartments property is the third new workforce rental project to be developed in Orange by this unique partnership.  These projects offer the City of Orange an excellent opportunity to address housing needs by providing quality, affordable apartments for families." 
The Lemon Grove community consists of spacious apartments with rents affordable to families with household incomes ranging from 30% to 60% of the area median income.  Lemon Grove features a variety of amenities including a recreation center, a tot lot, onsite laundry facilities, and abundant open space including a community garden.  
Apartments are within walking distance of bus stops, schools, general retail and parks and are designed to achieve, at minimum, a LEED Gold certification and will exceed California Title 24 CALGreen energy efficiency standards.
Lemon Grove's companion workforce housing property, the adjacent 57-unit Citrus Grove Apartments built a few years earlier, is also on a contiguous industrial site.  The two sites are adjacent to an active rail line with Metrolink and Amtrak running daily.  As part of the project planning, special measures were taken to aid in the reduction of vibration and sound that could affect the apartment residents. In addition, the sites are adjacent to operating industrial properties. Thus special lease addendums were adopted to notify apartment residents of the surrounding industrial uses and that the companies have a right to continue their existing operations.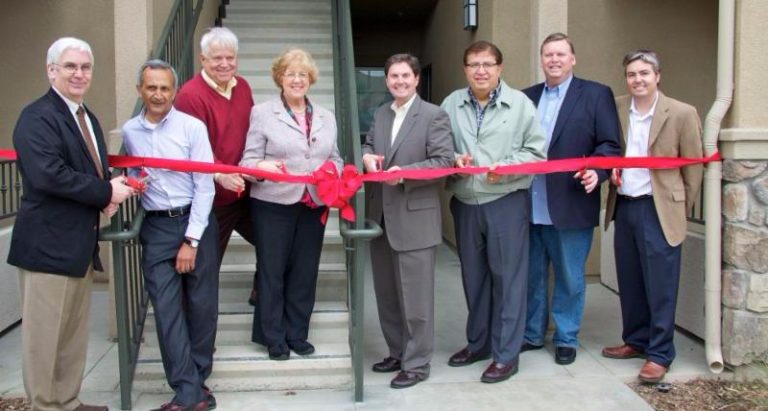 (pictured left) City of Orange officials with representatives of Orange Housing Development and C&C Development. The City of Orange and the developers have collaboratively built 557 affordable apartments in the city during the past 25 years.
Diversity of Housing
"Since our city is nearly built out, we must be very creative in finding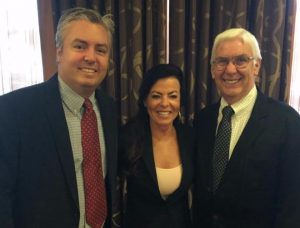 viable sites to provide a diversity of housing for our residents," explains Council Member Mike Alvarez.  "A great example of creative thinking is Lemon Grove and its companion Citrus Grove workforce housing properties that have been built by Orange Housing and C&C Development on former industrial sites transformed into residential opportunities."
Affordable housing developers such as Orange Housing and C&C have advanced the city's Housing Element by redeveloping underutilized commercial and industrial uses into multifamily residential development.  Redevelopment of industrial and other non-residential sites is a key provision in the city's Housing Element. It states that urbanized areas being created by growing employment opportunities have "produced projects that redevelop commercial and industrial uses to integrate both residential and commercial uses at higher densities than seen previously." 
They also add depth to the city's inventory of affordable housing for all residents, according to Mayor Teresa "Tita" Smith.   "A key element in the City of Orange's General Plan vision is to provide housing at every income level for our residents," notes Mayor Smith.  "Orange Housing and C&C Development have for the past 25 years played an important role in providing quality affordable housing for individuals and families in our Orange community."
National Recognition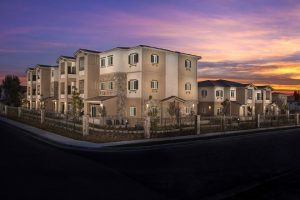 One such property is Serrano Woods, an affordable housing community built by Orange Housing and C&C Development in partnership with the City of Orange, that was recognized nationally by the U.S. Home Program.  
Developed in partnership with Orange Villa Bible Church, which along with the Friendly Center operate the on-site community center,  Serrano Woods includes two- and three-story buildings that encompass 63 units designed for the needs of large families.  The property features life enhancing programming and amenities such as a fully activated 2,200 square-foot community center, two tot lots, approximately 33,000 square feet of open/community space, and two on-site laundry rooms.  Certified LEED Gold, Serrano Woods is professionally landscaped throughout with trees, shrubs, and grass to provide aesthetic value, maximize shade, and to aid in the retention of water prior to run off.
Along with Lemon Grove Apartments, Orange Housing and C&C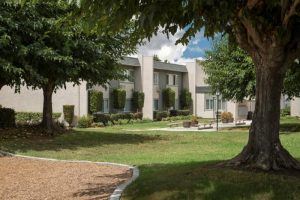 have completed the renovation to preserve the Casa Ramon Apartments, a workforce housing property that consists of five two-story buildings situated on 3.3 acres in the City of Orange. The property's 75 affordable apartments include 26 one-bedroom units, 41, two-bedroom units and eight, three-bedroom units. Project amenities consist of recreation and open space, garage parking, picnic areas and laundry rooms.
Enormously Rewarding
"It has been an enormously rewarding experience for us to work with the City of Orange in conjunction with C&C Development as we designed and developed very challenging and yet extremely successful workforce housing communities for the city and its diverse population," concludes Eunice Bobert, CEO of Orange Housing Development Corporation.  "I would say the proof that our 25-year collaboration is strong is the fact that we are as productive today as a team as we were when we developed our first project together in the early 1990s."