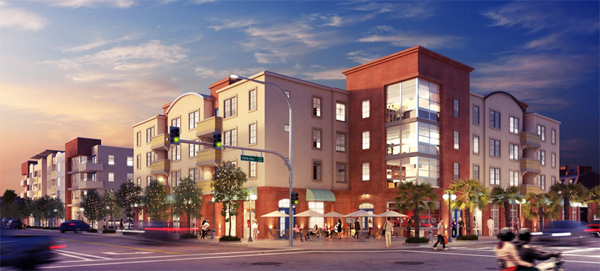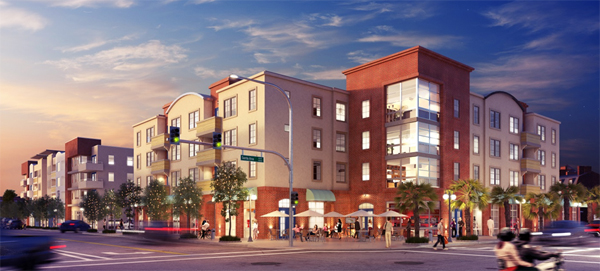 GROUNDBREAKING MARKS START OF CONSTRUCTION FOR
DEPOT AT SANTIAGO TRANSIT-ORIENTED DEVELOPMENT IN SANTA ANA
–DEPOT AT SANTIAGO SINGLED OUT FOR 2016 SCAG SUSTAINABILITY AWARD FOR ACHIEVEMENT IN INTEGRATED LAND USE AND TRANSPORTATION–
SANTA ANA, CA, (Sept. 8, 2016) – Ground has been broken for the Depot at Santiago, a transit-oriented, workforce housing development being built by C&C Development and Orange Housing Development Corporation in partnership with the City of Santa Ana that will create a new community resource and activity center for surrounding neighborhoods and families.
Being developed on a 1.35-acre urban infill site across the street from the Santa Ana Regional Transportation Center and on the proposed OC Streetcar line, the 70-unit Depot at Santiago is designed for working families with incomes ranging from 30% to 60% of area median income (AMI).
Consisting of two urban-styled, multifamily buildings at the intersection of Santa Ana Boulevard and Santiago Avenue, the Depot at Santiago is a mixed-use development that includes approximately 8,500 square feet of ground-level retail space.  The retail building will open onto a large, vibrant outdoor plaza for social gatherings, community events and the display of public art.
The residential component includes 14 one-bedroom, 29 two-bedroom, and 27 three-bedroom apartments.  It also features a 3,000 square-foot community room, abundant open space, and a barbecue pavilion
"Even though there is a significant shortage of affordable housing in Orange County and Southern California, C&C Development and Orange Housing Development have always stepped up to build quality affordable housing such as the Depot at Santiago for our Santa Ana residents," said Santa Ana Councilmember Michele Martinez.   "Providing sufficient affordable housing has always been a priority of our city and public/private partnerships with builders such as C&C and Orange Housing have been key to fulfilling our housing goal."
Also speaking at the groundbreaking ceremony, Councilmember David Benavides said that quality workforce housing as represented by the Depot at Santiago is critical to providing an environment for families to have access to beneficial community services such as public transit and to lead a dignified family life.
"The City of Santa Ana is doing its part in providing new housing for all of its resident, both affordable and market-rate," he stated.  "C&C Development and Orange Housing Development have been long-time partners with our city in achieving that mission."
Todd Cottle, principal of C&C Development, said that with its location in the Santa Ana Transit Zoning Code district, the Depot at Santiago will be a catalyst for future urban development opportunities in the surrounding vicinity by paving the way for additional housing and new retail outlets within an area that has been historically underserved.
Additionally, the Depot's sustainable footprint will benefit both the residents who live in the property and the surrounding community with convenient access to public transportation that helps reduce vehicle miles traveled and greenhouse gas emissions, Cottle noted.  The Depot is designed to achieve a LEED Gold Certification and will exceed California's Title 24 energy efficiency standards by at least 10 percent.
THE WOODEN FLOOR
The Depot at Santiago will also be a social, educational, health and cultural hub for the adjacent neighborhoods through the developers' partnership with The Wooden Floor, a non-profit organization that gives underserved youth the tools to live fuller, healthier lives through a unique lifestyle approach based on the dynamics of dance.
With its partnership with C&C Development and Orange Housing, the 33-year-old nonprofit will open an annex next year as part of the Depot at Santiago that will allow it to serve an additional 100 students and their families, according to Dawn S. Reese, The Wooden Floor's Executive Director and Co-CEO.  This is in addition to the 375 youths already enrolled in The Wooden Floor's year-round programs at its current campus in Santa Ana's Museum District.
Participants of The Wooden Floor program engage in intensive dance education supported by academics, college and career readiness programs, and family support services intended to improve the way youth make decisions and help them to discover and more fully pursue their education and career potential.
The Wooden Floor's model has received numerous awards and recognition, and since 2005 all of its senior class members have graduated from high school on-time and enrolled in higher education institutions, more than double the national average of their socioeconomic peers.
SCAG 2016 SUSTAINABILITY AWARD
In addition to creating a new community hub of housing and life services, the Depot at Santiago is the only residential project in Orange County that was selected by the Southern California Association of Governments (SCAG) for its 2016 SCAG Sustainability Award for Achievement in Integrated Land Use and Transportation.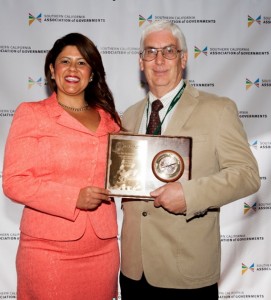 Santa Ana City Council Member and president of the Southern California Association of Governments, Michele Martinez, presents the 2016 Sustainability Award to Barry Cottle, principal of C&C Development. 
"The Depot at Santiago is the gold standard for transit-oriented development and we are proud that its sustainable design has been recognized by the Southern California Association of Governments," said Councilmember Martinez who is also president of SCAG.  "The Depot will add a new generation of quality workforce housing to our city and will serve as a sustainable template for future affordable housing projects."
The SCAG award honors a project, plan or public facility that integrates land use and transportation planning, advances infill, transit-oriented development, promotes a sustainable land use mix including new housing, and locates new housing near existing jobs and/or new jobs near existing housing.
The Depot is also the only affordable housing project in Orange County that in 2015 received cap-and-trade funding from the California Strategic Growth Council.   A key part of the Depot's financing package, the $3.9-million award made the Depot one of the highest ranked "shovel ready" projects in the state to receive the funding.
The City of Santa Ana provided both HOME and Community Development Block Grant financing and also Section 8 affordable housing vouchers.  Additional financing came through Mental Health Services Act (MHSA) funding which is administered by the County of Orange.  Project financing also consists of low income housing tax credit funding from the California Tax Allocation Committee, an investment by the National Equity Fund, State of California Infill Infrastructure Grant Program funding, and financing provided by the California Community Reinvestment Corporation and Bank of America.