CITY OF ORANGE APPROVES PLANS BY C&C DEVELOPMENT AND ORANGE HOUSING DEVELOPMENT CORPORATION
FOR NEW WORKFORCE HOUSING PROPERTY TO REPLACE DATED INDUSTRIAL FACILITY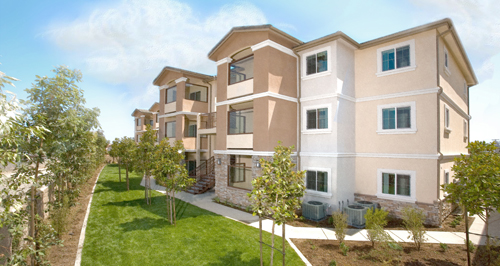 ORANGE, CA — The City of Orange City Council has unanimously approved plans by C&C Development and Orange Housing Development Corporation to build a new workforce housing community that will consists of 82 apartments with rents affordable to families with household incomes ranging from 30% to 60% of the area medium income.

Named Lemon Grove Apartments, the multifamily property is located at 1148 N. Lemon Street and will be developed on approximately 3.53 acres, the site of an older industrial facility that will be razed for the new residential construction starting later this year. The new workforce housing project neighbors another workforce housing property previously built by C&C Development and Orange Development that includes 57 apartments which will share residents services with the new community.

With the completion of Lemon Grove Apartments, C&C Development and Orange Housing Development Corporation will have built 242 workforce housing units in the City of Orange, making the development partnership one of the city's largest providers and managers of affordable housing.

"The development of affordable housing at its best is supported by a public/private partnership with active involvement by local officials and stakeholders," said Todd Cottle, C&C Development principal. "The City of Orange continues to be one of our most supportive cities, which makes possible the development of quality workforce housing such as Lemon Grove Apartments for growing families."

Lemon Grove Apartments will consist of four three-story, attractively designed buildings with one of the buildings housing the leasing office and community space. The property will encompass 24 two-bedroom and 58 three-bedroom apartments designed to serve large families. Floorplans range from approximately 849 square feet for two-bedroom apartments to 1,074 square feet for three-bedroom units.
The apartments will incorporate state-of-the-art design elements and building practices that reduce maintenance and utility costs, savings which will benefit residents. Design elements and practices include, but are not limited to, energy efficient HVAC units and water heaters, refrigerators, dishwashers, clothes washers, and low consumption water closets.

The Lemon Grove Apartments recreation center will feature a variety of amenities. The property will also feature a tot lot, onsite laundry facilities, and ample open space as well as surface parking with 164 spaces.

Cottle said the new community is designed to achieve, at a minimum, a LEED Silver Certification and will utilize such sustainable building methods as "low-E" windows, grass bio swales, filtera units, and solar energy to provide common area electricity, as well as water saving plumbing fixtures, formaldehyde-free insulation, and CRI Green Label Plus carpet. For optimum water conservation, irrigation systems will be state-of-the-art and the property will be landscaped with low maintenance, drought resistant plants throughout including trees and shrubs to provide aesthetic value, shade, and to aid in the retention of water prior to run off.

The property will exceed California Title 24 energy efficiency standards by at least 30% and is within walking distance of bus stops, schools, general retail and parks.

C&C DEVELOPMENT
With more than 30 years of experience, Tustin, CA – headquartered C&C Development LLC is a full-service real estate development company specializing in the construction, acquisition, rehabilitation, and management of affordable housing for working families and seniors. Collaborating with stakeholders, housing organizations, local municipal staff, and elected officials, C&C designs and develops distinctive affordable projects to assist neighborhoods and communities in pursuing their smart growth goals and implementing their long-term housing vision. The company's development activities revolve around three types of projects for moderate, low, to very low income residents: new construction of multifamily units; adaptive reuse of existing, underutilized properties; and revitalization/rehabilitation of existing troubled multifamily properties and neighborhoods. With a strong foundation of knowledge, expertise, and experience, C&C communities provide residents with dignity and the opportunity for upward mobility, as well as a place where they can live, call home, and thrive both physically and mentally.

ORANGE HOUSING DEVELOPMENT CORPORATION
Headquartered in Orange, CA, Orange Housing Development Corporation (OHDC) is a non-profit organization dedicated to providing secure, clean and attractive housing for people of low and moderate incomes. OHDC was founded in 1990 to increase the number of affordable housing units in California and to try to fill the void that cannot be filled by the private sector. OHDC is committed to providing people with high quality, low-cost developments and responsive management services, while creating enjoyable and productive living environments. OHDC is committed to the enhancement of communities through the aesthetic value and economic vitality of its developments, and by leadership and active participation in community affairs. OHDC is committed to the long-term financial stability of every project. Decisions are guided by economics without compromising integrity. The goal is to utilize the funds available in the most responsible way possible and to leverage funds in order to obtain maximum quality production.