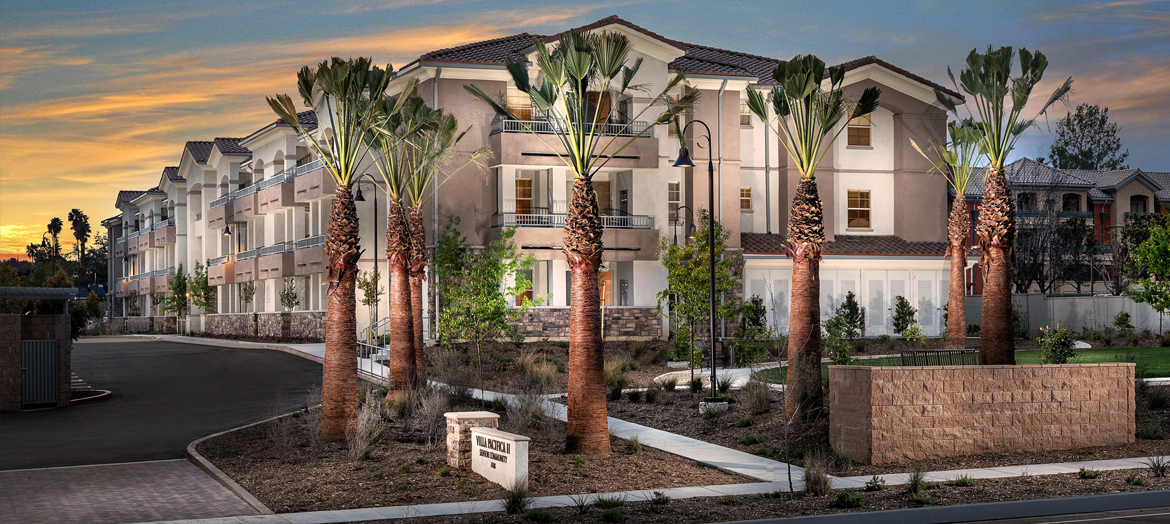 Construction Completed on Villa Pacifica II
Senior Apartments
Rancho Cucamonga, CA
Construction has been completed on Villa Pacifica II, an affordable apartment community designed for senior citizens that is located at on 2.25 acres at 7418 Archibald Avenue in Rancho Cucamonga, CA. Developed by Orange Housing Development Corporation and C&C Development in partnership with the City of Rancho Cucamonga, Villa Pacifica II is an architecturally distinctive, three-story apartment building encompassing 60 units with elevator service.

"The City of Rancho Cucamonga is proud to be a partner in providing housing options that are as diverse as the residents in our community," said Lynne Kennedy, Rancho Cucamonga Mayor Pro Tem. "In particular, providing affordable senior housing access and availability for our mature residents allows them to be close to family and continue to be active members of our community."

Villa Pacifica II provides a quality home environment for seniors with one-bedroom apartments that are approximately 697 square feet and two-bedroom units that are 954 square feet, with rents ranging from 30 percent to 60 percent of area median income (AMI).  All the apartments are adaptable for residents who require accommodations under the Americans with Disabilities Act (ADA).

The property also includes a 4,907 square-foot community room with leasing office, onsite laundry, outdoor exercise equipment, 11,645 square feet of common area and 60 surface parking spaces.

"Bank of America Merrill Lynch is pleased to provide more than $15 million through a loan and equity investment to help create much-needed affordable housing for seniors in Rancho Cucamonga," said Al Arguello, Bank of America Inland Empire market president. "The senior population has been the fastest growing age demographic in the city, having nearly doubled over the past two decades, so it is vitally important to help create safe and secure affordable housing for local seniors."

Villa Pacifica II senior housing is an addition to the adjacent Villa Pacifica, an existing senior housing property that encompasses 158 units in two three-story buildings with rents affordable to residents with incomes at 50 percent to 60 percent AMI. Orange Housing was a partner with the City of Rancho Cucamonga in the development of Villa Pacifica.

"Our experience working with the City of Rancho Cucamonga during the development of the first Villa Pacifica senior housing property was extremely successful and gratifying for us as the developers," said Eunice Bobert, CEO of Orange Housing. "We experienced the same high level of collaboration with the development of Villa Pacific II, which we are pleased to again be a partner with the city and with C&C Development."

Incorporating building systems that reduce utility costs and maintenance, Villa Pacifica II is designed to reduce environmental impacts with the installation of energy efficient HVAC systems, efficient water heaters and water conserving plumbing, and Energy Star appliances. The property is attractively landscaped with environmentally sensitive, low maintenance and drought resistant plant materials to provide aesthetic value, shade and to aid in the retention of stormwater runoff.

A walkable community, Villa Pacifica II is located near bus stops, groceries, pharmacies, general retail, a public library and medical clinic. C&C Development purchased the site from the City of Rancho Cucamonga and the National Equity Fund, an affiliate of the Local Initiatives Support Corporation (LISC), provided $6,077,251 in funding as the project's Low-Income Housing Tax Credit investor. Other financing sources include the City of Rancho Cucamonga, California Community Reinvestment Corporation, California Tax Credit Allocation Committee, California Debt Limit Allocation Committee, and Bank of America Merrill Lynch.